Introduction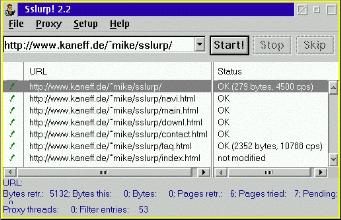 Sslurp! can retrieve Web pages from a HTTP (WWW) server. It can be configured to follow all hyperlinks on the page that lead to other pages on the same server. Images on the pages can be retrieved as well. All pages are stored on disk and can be viewed later using your web browser.

Sslurp! also contains a simple proxy server for viewing the downloaded pages and for filtered Internet access.

Sslurp! can make use of a proxy HTTP server, speeding up the whole procedure. Sslurp! requires at least one HPFS partition!

Sslurp! is Freeware, i.e. you can use and distribute it for free. However, you may not sell or rent it! Sslurp! is still copyrighted software.

Sslurp! is an OS/2 application and does not run on Windows!

Please note that I no longer have a running OS/2 system and therefore can no longer make changes to Sslurp or release new versions.